Those in SEO, particularly link building field will know how tedious finding and building good links can be. And it gets more difficult with recent penalties by Google on poor linking strategy, especially after Google Penguin updates.
Enter Link Prospector – a web tool (by Citation Labs) to find link prospect quickly. The tool is so simple, you can actually get confused if it is actually useful. Here is a look at how Link Prospector works.
Basically there are four tabs to look out for once you have an account.
Campaigns
Prospects
Exclusions and
Profile
Profile tab is for your account settings, so let's look at the other three tabs.
Campaigns
Campaigns are your project names. Make sure you give a name that is easy to remember later on if you have many campaigns. For this example, I have started 'Australia Restaurants' as a campaign name which will be used to find backlinks for restaurants in Australia. On your campaigns tab, you can create new campaign and rename or delete the existing campaigns.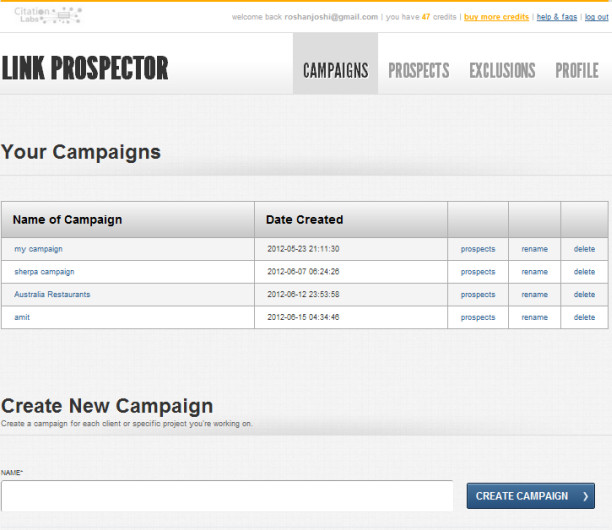 Prospects
This is the most important tab. Here, you can create reports for different types of backlinks as your prospects for link building. Altogether, there are 14 types of prospects in Link Prospector as of now. These are:
Guest Posting: Discover blogs that allow guest posts and offer your writing services.
Links Pages: Find the resource and links pages that will add a link to your site.
Content Promoters: Find writers who are likely to cover your story, or repost your infographics and articles.
Reviews: Look for people who review products or services in your space.
Giveaways: Offer goods and services for use in contests.
Donations: Be charitable and earn links through sponsorship opportunities.
Commenting: Find the posts relevant to your key phrases. Join the conversation, and link to your site.
Expert Interviews: Identify domain experts you can interview, or pitch your own expertise.
Directories: Identify quality directories to help you get your site listed quickly.
Forums: Add value to the conversation and build brand equity.
Topical Blogs: Pinpoint the blogs that cover your industry, and are likely to post about your site.
Professional Organizations: Locate trades and professional organizations you can join.
Research: Content: Find top tips for writing great content.
Custom: Use any amount of research phrases you like.
Quite a handful ways there! Make sure to give your report a meaningful name that you can remember. For this particular example, I have created a prospect report for Reviews, named 'restaurant review prospects' to find sites who are willing to review my product related to an Australian restaurant. You can choose up to 5 different research phrases for the particular report. This is similar to the keyword research that you do for normal SEO.  You can find more details on the research phrases on the video here. I have chosen these five as my top research phrases while looking for prospects who review restaurants in Australia: "Sydney Restaurant Reviews", "Dining Guides in Sydney", "Melbourne Food Guide", "Top Brisbane restaurants" and "Best Bars in Perth". Of course you can choose any that you want.
Then you can select the finer controls on what kinds of link prospects you want: these are based on:
Region: Country of choice. Useful if your prospects need to be from a particular region/country.
Search Scope: Web results or blog results or both. Useful if you are looking for blog or web results only.
Depth: number of results to be included from the search results. More depth might produce poor results so it is best to stick to under 50 results. Again, it would depend on the research phrase and you are free to experiment from 1 to 1000 depth.
TLD: top level domain from which you want links. .com, .org, .edu, .gov and so on. Useful if you need non .com backlinks.
Date Range: you can select results from past 24 hours to past year or any date if you want. Very useful if you want blog reviews.
Safe Search Filters: Moderate, Strict or no filtering.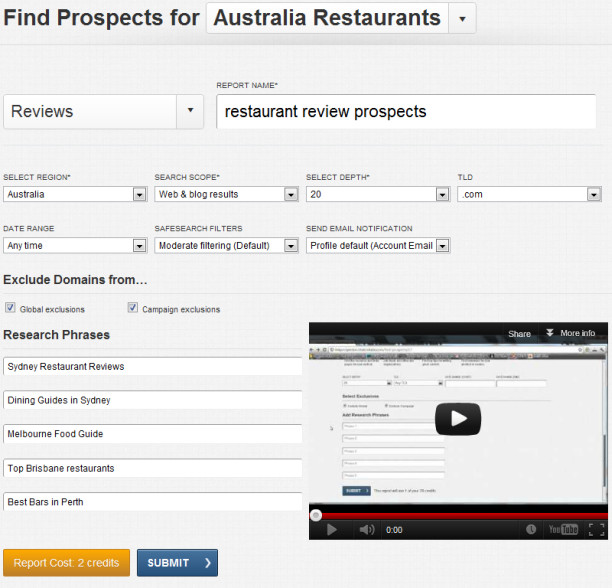 You can also select domains to exclude from the particular campaign or overall campaigns – this can be set from the Exclusions tab. Useful if you know you are not going to get backlinks from certain domains and want to exclude that from prospect report.
It generally takes 20-30 minutes for Link Prospector to generate reports. So take a break!
Finally you get the result prospects. In this case, we got over 3300 prospects for 'restaurant review prospects'. By default, the results are sorted by Link Target Score (LTS) based on the overall relevance and potential. You can also sort by Top Level Domain (TLD) or Google PageRank (PR) of the website. Each resulting domains can have several pages, called the paths, which can be our prospect for backlinks. You can expand the paths by clicking on the number of paths. It is also possible to export the resulting prospect domains or the paths for further use (in .csv format).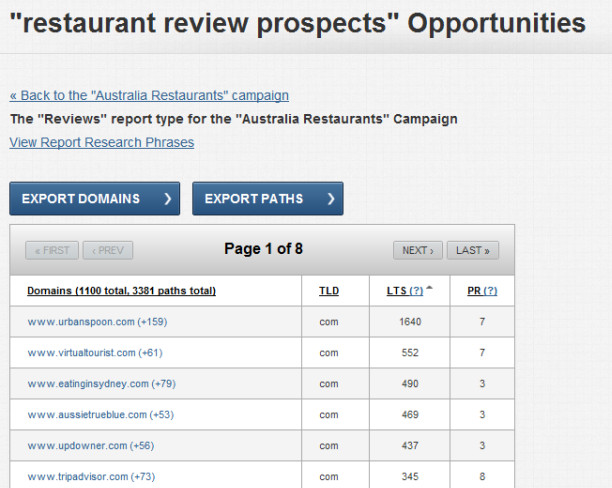 After this, it is up to you how to use the prospect list to build your backlinks.
Exclusions
This tab can be used to exclude domains on campaign level or global level. This is useful to exclude some major sites, or Spam sites or your direct competitors who you are not interested as prospect for backlinks.
Each prospect report costs you a credit. The free version of the Link Prospector comes with 1 free credit. For additional credits, you can subscribe to extra credits on monthly payment basis, which you can easily do anytime from your profile tab. There is also a FAQ section should you have any further questions.
You can start your Link Prospector Campaign here