The current election, with over 12 million registered voters by far one of the largest participated event in Nepal. Big event means more interest across all channels, including websites and social networks.
For a small country with ridiculously large amount of news consumption and political interest (the number of TV, paper, radio and online news sites in Nepal easily tops thousands), online news websites are still the most visited websites in Nepal.
Such huge events also draw more visitors (traffic) to websites, which require more bandwidth to handle the traffic. This is similar to road traffic – more vehicles during rush hour requires wider roads and proper navigation to prevent jam. Servers with limited bandwidth can crash if enough care isn't taken for.
Simplified Bandwidth Calculation Formula:
monthly bandwidth = average webpage size X average webpages viewed per visitor X monthly number of visitors
So for average webpage size of 500Kb, average person viewing 5 webpages, a website that gets 100,000 visitors in a day would need 7,390.98 GB bandwidth per month.
Having said that, the election is a pre-planned event and the number of visitors could/should have been planned for. I went through uptime and downtime for some of the popular news sites in Nepal over past few days and here is what it looks like (doesn't look impressive).
Performance of top websites
Data is collected from 10 popular online news websites in Nepal, a blog and the election commission site of Nepal. The websites in alphabetical order are: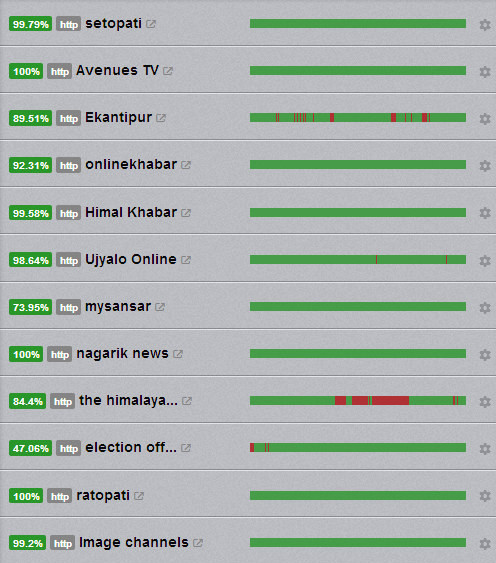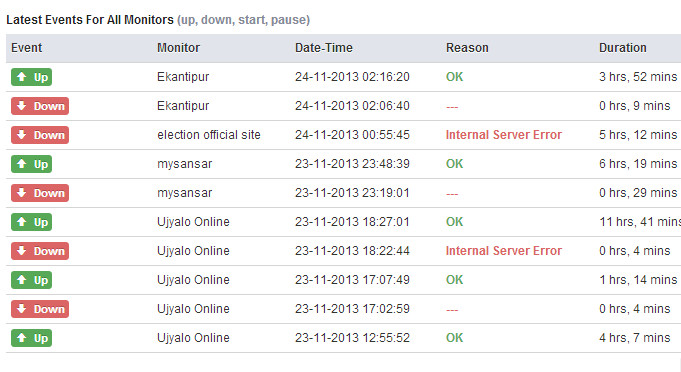 The election week took its toll on every server as record people from within the country and outside Nepal checked online for breaking news and voting updates. Also, social media sharing meant that news come immediately on large number of walls and timeline and so lot of people are on the same webpage at the same time. As sites went down frequently, some had light version site. Many sites opted for third party tools for faster updates and reduce bandwidth on their servers. Scribblelive seemed to be a favorite tool for most news sites – possibly due to its 30 day trial and ease of use. Some were even embedding Google Docs and different chart tools.
But, on average, Nepali online news sites were down for over 1/4 time over this week. Some sites were up 100% while it was monitored this week but the most popular ones seemed to be down more time. If we fail to plan even for planned event, how could we possibly plan during disasters – where more people could be rushing for updates from their favorite news site? Time to step up!