Search Engine Optimization (SEO)
Search Engine Optimization
Google, Yahoo and Bing (MSN Search) are the major search engines. Together they contribute about 95% of the global search.
Statistics show that 62% of visitors use the search results from the first page results. So, not being on the top 10 of search results will significantly reduce the chances of visitors coming to your website. Building a search friendly website is hence critical for the success of an online business.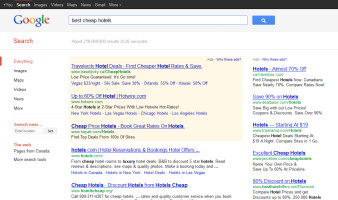 Most users choose first page search results in Google
SEO Factors
SEOis an Digital Marketing strategy of implementing various factors for higher ranking in the search engines. These include the keyword analysis, META tags optimization, content optimization and links optimization among others.
Organic SEO
Search engine optimization refers to getting higher rank from organic search results or natural way of ranking websites. Higher ranks can also be achieved using advertising, called the paid search or sponsored links which is separate listing from the organic results. Paid search generally appear at the right side of search results.
SEO is done based on targeted keywords. So proper keyword research is essential for SEO.