SEMrush provides knowledge and research tools for search and marketing professionals. I talked about SEMrush keywords  Google AdWords Analytics tool a while back. Now SEMrush is coming up with something exciting for Facebook advertisers as well – Facebook Pay Per Click Intelligence Tool. Here is a walkthrough on what the tool is going to be like:
Once you login to SEMrush, you can see the Facebook navigation on the Dashboard. This contains three submenus – namely Ads by domain, Ads by keyword and TOP Ads. Let us see more of each. I shall mostly use Nepali Facebook Ad examples for this purpose – but this is applicable for any country or globally as well.
Ads by Domain
Here you can search Facebook ads by the domain name (advertised website). So if you are a travel company and want to know how much ad AceTravels is doing, you can type their domain name acetravels.com and see the results. You can see Total Ad Impressions as well as unique impressions for the week, month or three months. Here is a screenshot.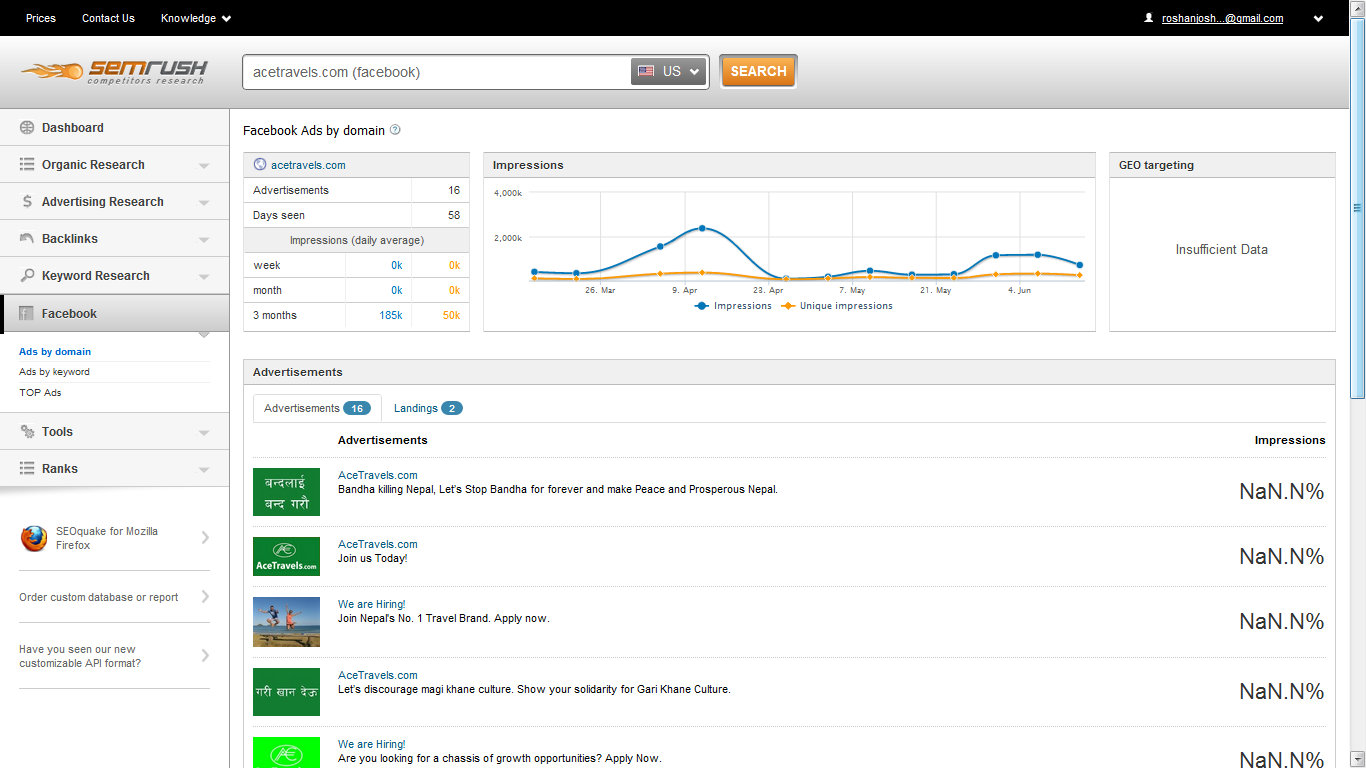 Facebook Ads by Domain
Seems that AceTravels targets only Nepal and hence GEO targeting shows insufficient data. So let's check another travel site, that of Explore Himalaya using their domain explorehimalaya.com.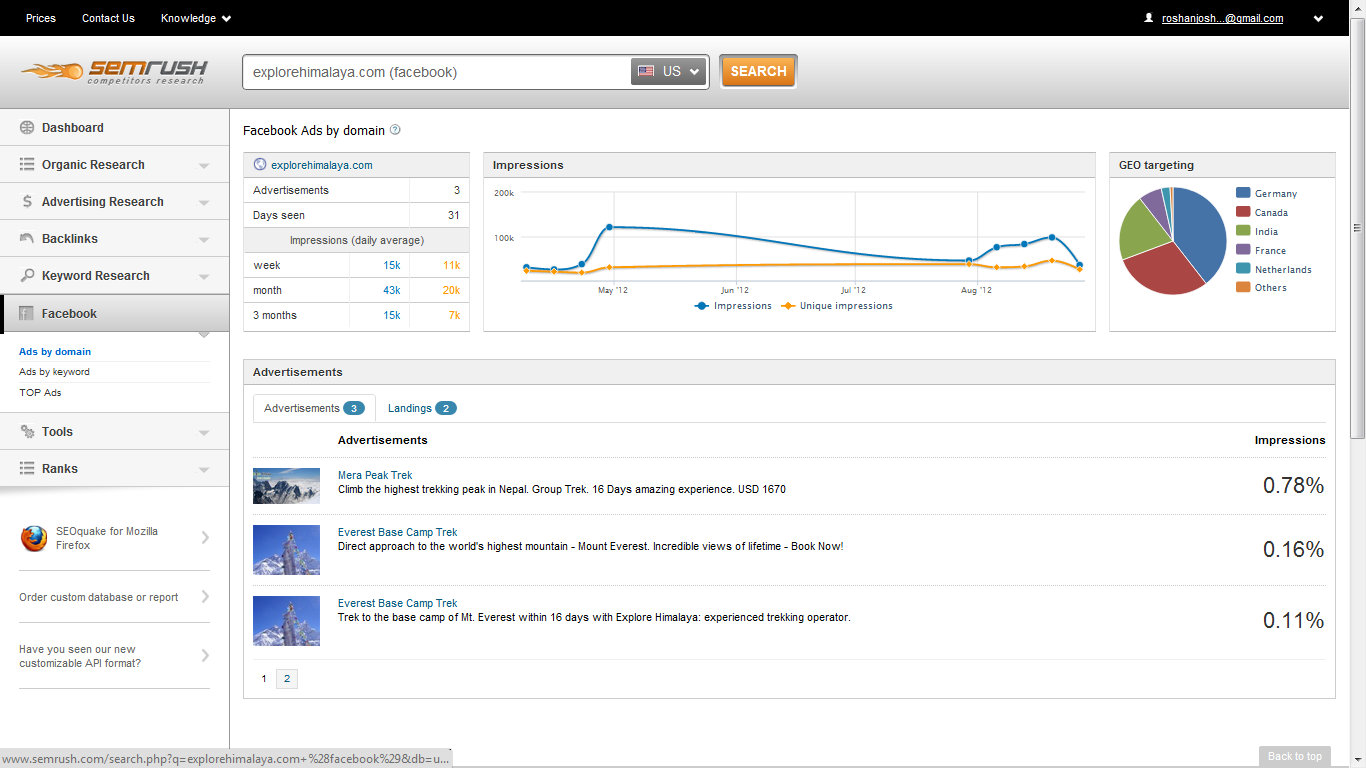 Explore Himalaya Facebook Ad
You can also click on the single ad to see the details such as first and last seen dates on Facebook.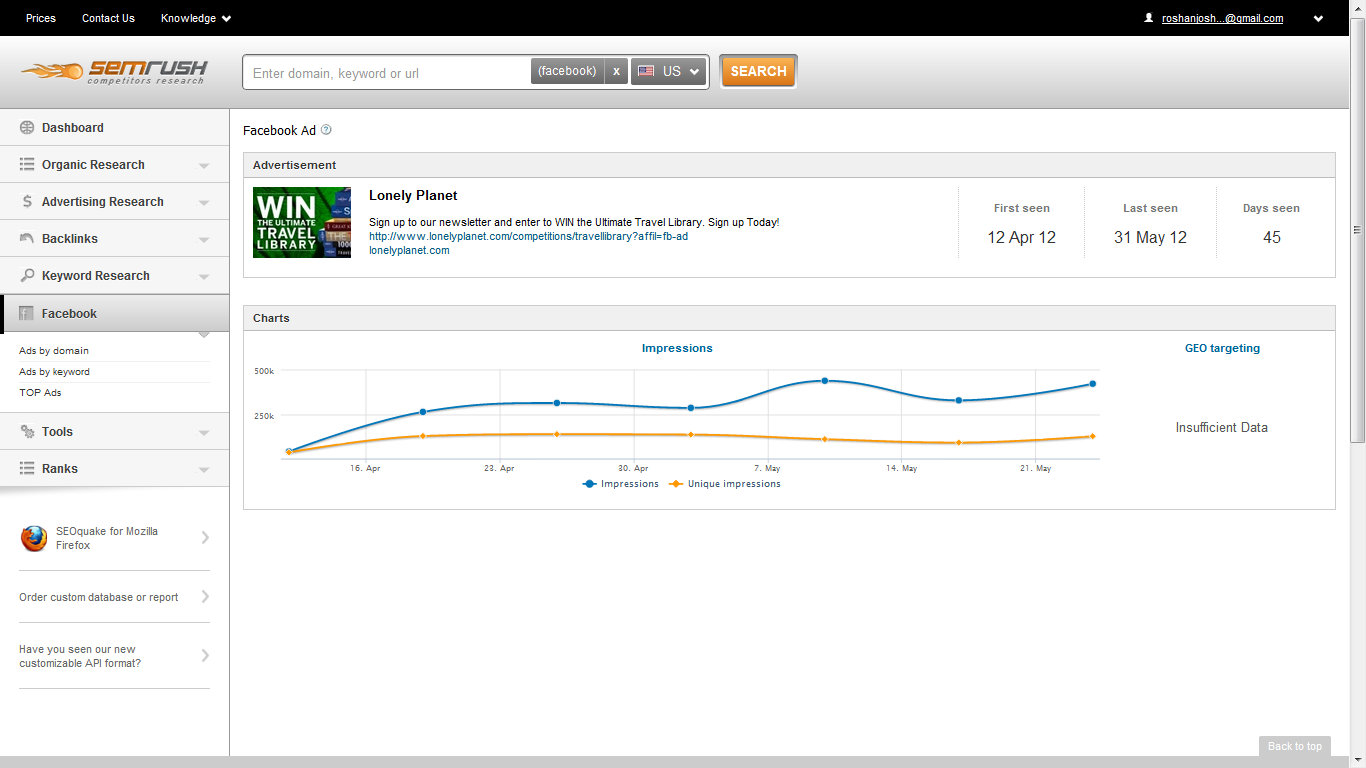 Details for a Facebook Advertisement by LonelyPlanet
Here we see that the ad is targeted mostly on selected countries and there are 3 versions of Ads. The impression chart shows ad impressions across various months. We can also see the impressions for each ads and which ones are performing better. Thus it can be a useful tool to improve your ads as well. Similarly, the ad landings show the major pages that the website is targeting through those ads.
Facebook Ad Landings checks important website pages from competitors
Features that I found need improvements in this section are:
The days seen for ads are kind of inaccurate and doesn't make much sense as it is.
Many companies advertise for their Facebook Page itself. There doesn't appear to be way to check the ads in that case.
Data for ads targeted for single geographic region such as Nepal seems inaccurate of non-available in many cases.
We can use a side-by-side comparison like this give good insights on Facebook advertising pattern by competitors.
Ads by Keywords
Ads by keywords shows the popular ads with the keywords within the ad Headline or Text. Since Facebook Ads are segmented based on interests rather than keywords, the search by keywords works different than the PPC in Google AdWords. This can however be used to find the competing ads by finding Ads by Keywords. Again, let's consider the travel industry and use "travel Nepal" as a keyword. This gives an idea on comparison of the ads and ad impressions.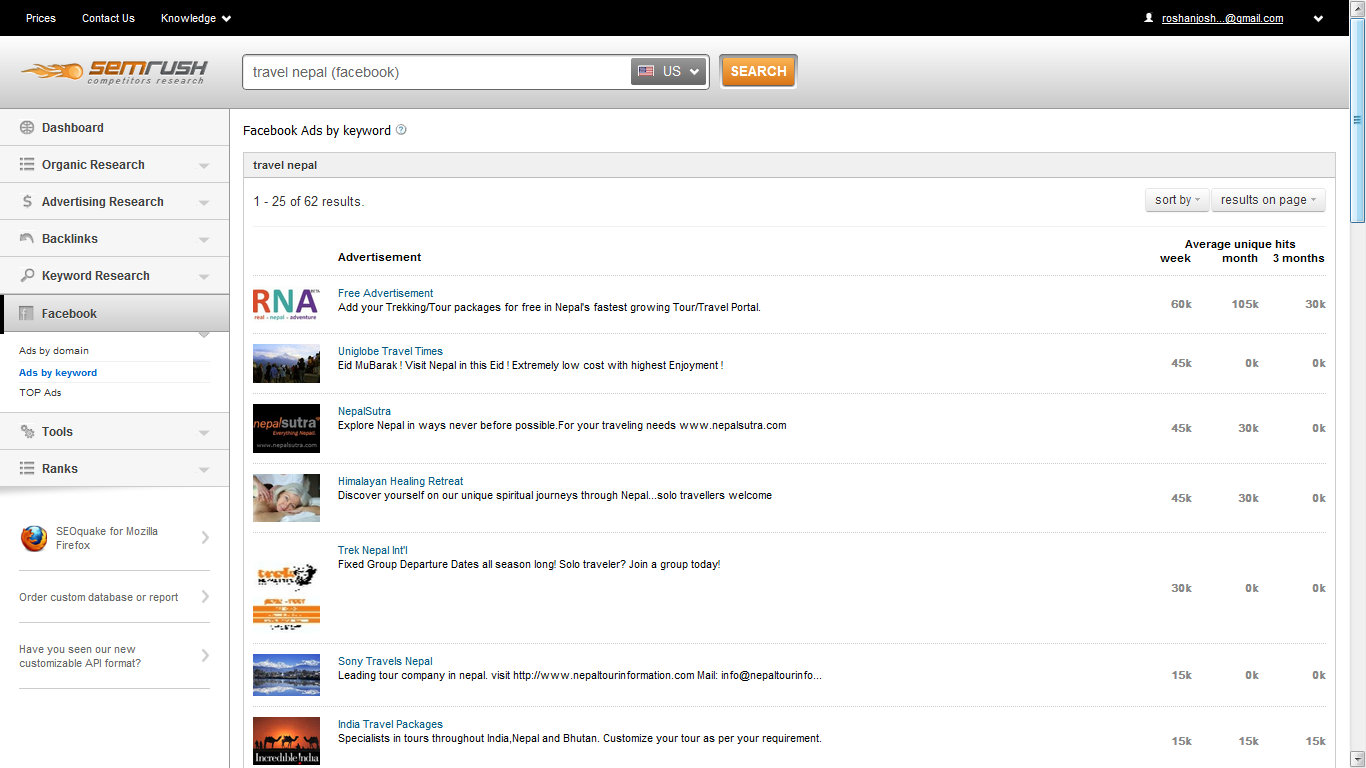 Facebook ads by Keywords
Features that I found need improvements in this section are:
Ads by Keywords option seems less logical as the ads in Facebook are not segmented based on Keywords.
The monthly / 3 monthly ad impression numbers (average unique hits) seem to be broken as seen on the screenshot
TOP Ads
This gives the overall list of top ads and advertisers on Facebook. What is more impressive is this also give option to dig deeper to find the list of top Ads and Advertisers on Facebook based on country and for a given time frame (weekly, monthly or 3 months).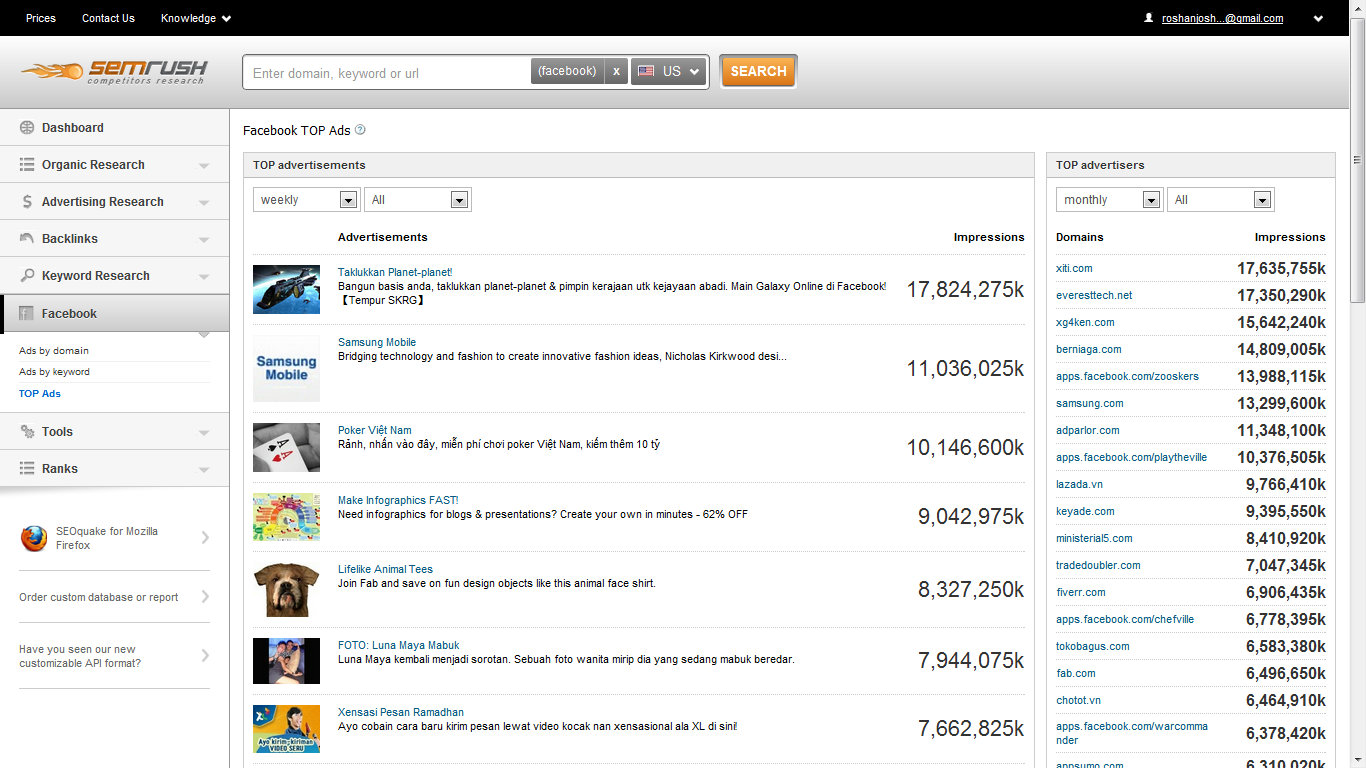 Top Facebook ads and advertisers worldwide
Top Nepali ads and advertisers on Facebook
Here I show the weekly top Facebook ads in Nepal (most displayed Facebook advertisement in Nepal) as well as the monthly top Nepali advertisers on Facebook, along with the total number of impressions they had. Seems like colleges in Nepal and for Nepalis are having a blast at Facebook Ads!
Features that I found need improvements in this section are:
Advertiser name alongside the top ads would be better
Overall improvements that I wish for:
Some way to put the monetary value estimation for the ad into the insights as in Google PPC.
The country selection in the search box is confusing and seems unnecessary for Facebook Ads.
The Facebook Pay Per Click Intelligence Tool would be very useful for existing advertisers as well as business looking to start advertising regarding how others are using it and how to get the most of Facebook Ads. A must for PPC professionals – or even upgrade to paid account to start taking the maximum benefits.